Current On-Site Response Time: 3.2 hours
"We believe every business should have the chance to make a positive impact on our environment"
There are many reasons why companies should look at there environmental impact, Office Options can help your company look at the way you produce and manage your document process. We can help with:
Environmentally efficient equipment
Software to stop unintentional printing
Further to our decision last year to totally review the copiers and printers at the school and the high costs associated with these devices and subsequently choosing Photofax Systems as our new supplier I wanted to inform you of how happy we have been with the new equipment and the high levels of back services you have provided us so far. Nothing has been too much trouble for your installations, training, service and IT back up team in ensuring the seamless integration into the school of new machines.
The fact that you have been able to provide a complete service/maintenance package on all the new photocopiers and printers is proving to be not only extremely cost effective but also gives total peace of mind.
I look forward to discussing with you our additional machine requirements when the new extension of our school is complete.
Finally, I would like to say that I would be happy to recommend your services to other schools in the Northamptonshire Area…. Keep up the good work.
Office Options have provided a comprehensive range of printers and multifunction devices across several sites. All requirements are covered and the set up can be expanded and refined if required for future changes or expansion. As the RSC has many sites and a huge variety of activities to put on plays and run the business, this flexibility is important.
If there are any problems with machines Office Options are easily contacted and respond quickly and politely to problem solve. If we need background information or input on specific projects or buildings they are happy to help.
St Edmund Campion Catholic School has worked closely with Office Options for the past 8 years and I am pleased to say that the service they provide is of excellent quality. The machines installed are of a high quality and are extremely user friendly. The customer service from the support team is second to none with friendly assistants always willing to help and the service, technical support and expertise provided by the engineers is of the highest standard. Office Options is a well managed, cost saving and efficient company that has provided the school with excellent equipment and advice and I would wholly recommend their service to other schools and companies.
We have had a working relationship with Photofax Systems for over 10 years, initially as our Facsimile machine supplier and then as our Photocopy supplier.
We have just started our third Photocopy contract with Photofax having looked at the market place as we do each time the contract is up for renewal. We continue to work with photofax because they offer a solution that exactly fits our requirements at a price that is competitive.
Over the time we have worked with Photofax we have always received the very best service and our machines are never out of action for long when faults occur.
In summary I would recommend Photofax as a supplier, they offer excellent service, value for money and they are always pleasant and professional to deal with.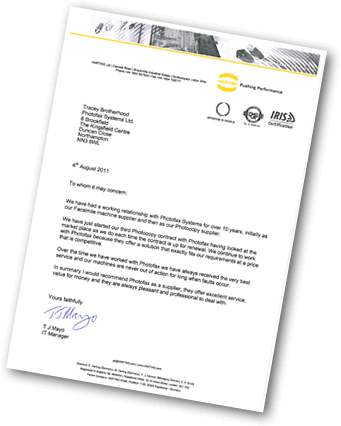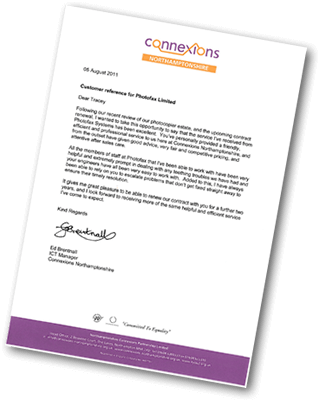 Following our recent review of our photocopier estate, and the upcoming contract renewal, I wanted to take this opportunity to say that the service I've received from Photofax Systems has been excellent. You've personally provided a friendly, efficient and professional service to us here at Connexions Northamptonshire, and from the outset have given good advice, very fair and competitive pricing, and attentive after sales care.
All the members of staff at Photofax that I'vebeen able to work with have been very helpful and extremely prompt in dealing with any teething troubles we have had and your engineers have all been very easy to work with. Added to this, I have always been able to rely on you to escalate problems that don't get fixed straight away to ensure their timely resolution.
It gives me great pleasure to be able to renew our contract with you for a further two years, and I look forward to receiving more of the same helpful and efficient service I've come to expect.